Return to Headlines
Valley Echo Goes Behind the Scenes With Cast Members of Chicago, Premiering May 12th

Gabrielle Lim '23
4 May 2022
---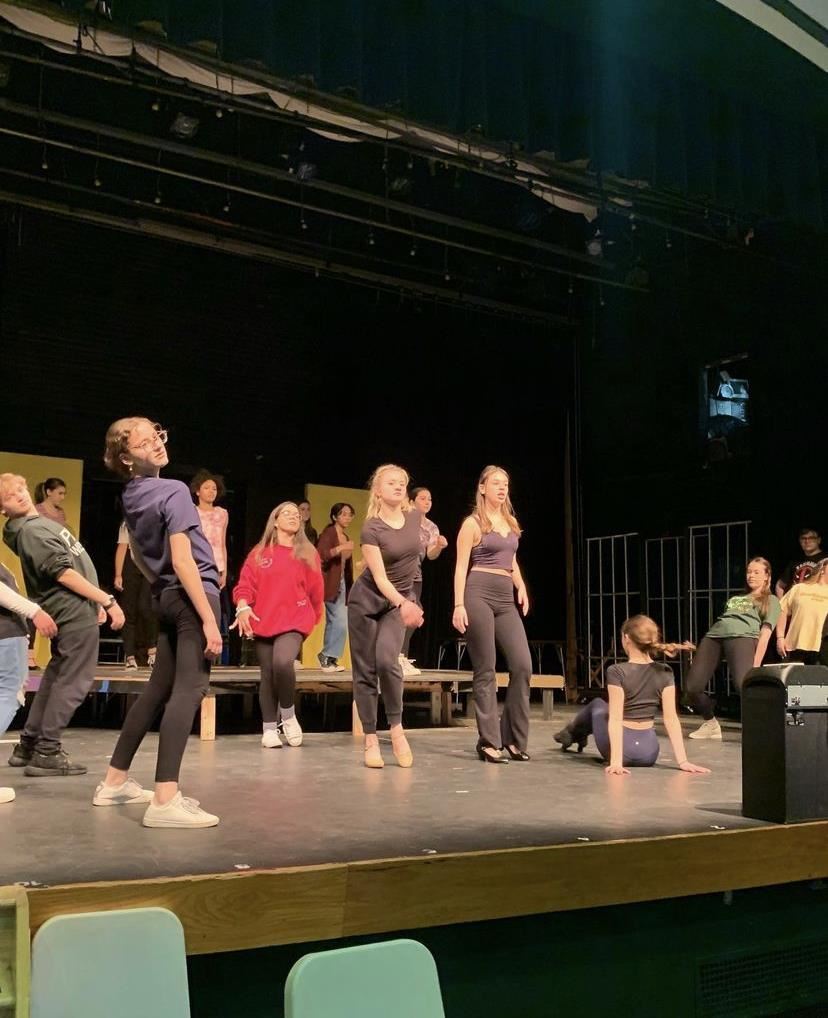 On May 12, 2022, PV's production of the jazz musical, Chicago, will have its first showing in the Schneider Auditorium with students from the Theater Department portraying iconic Chicago characters like Velma Kelly, Roxie Hart and Billy Flynn. With debut day quickly approaching, cast members have begun on-stage rehearsals for a performance unlike any seen on the PV stage.
Tickets are now on sale through https://www.showtix4u.com/event-details/64862 or can be purchased at the door. Chicago will be performed at the Schneider Auditorium on May 12, 13, and 14 at 7:00pm.
Behind the scenes, cast members are rehearsing their songs, choreography, and acting to prepare for the intense on-stage performance. Music Director, Mr. Michael DeLuccia, has been working with students to prepare their voices for the show's foot-tapping jazz songs, like "And All That Jazz" and "Cell Block Tango".
"I'm trying to get them to sing with that Vaudeville style, to be overly choral. Not operatic, not so clean. I'm trying to get them to sing with the right style of that time period [1920s]," said Mr. DeLuccia. "In terms of the choreography, Bob Fosse made this famous and was famous for his dance style. Our choreographers are trying to embody that in the choreography we're doing as well."
In recent weeks, cast members and directors have begun on-stage blocking. This is an aspect of performance preparation that includes set design, choreography, and other detail-oriented developments. During "Tech-Week", the week before the premiere, everything including the orchestra, costumes, and sound equipment are set up for the show. The night of, cast members and directors partake in another activity called "Pre-Show Circle" to prepare for their performance and get focused on everything they worked hard for.
Prior to being a cast member, students were required to audition for the musical. Students were required to prepare a song and/or dance to perform in front of the directors. Students prepared songs such as "What Baking Can Do" from the Waitress musical and "I'm The Greatest Star" by Barbra Streisand. "I was sick so I was nervous that I couldn't hit the high note because I had no voice. The day of, I switched to an Adele song last minute because I didn't want to hurt my voice, but last minute, I committed to [my first choice]," said Emma Giron '23.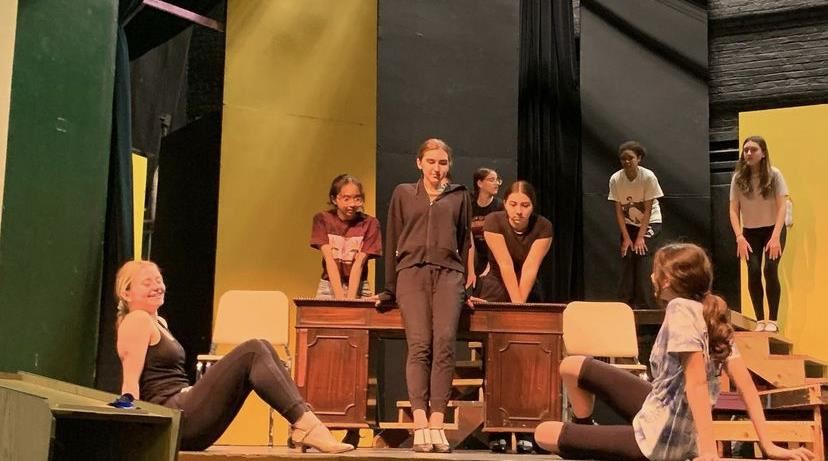 Chicago is a jazz-focused musical about crime and sensationalism in the media. The main characters, Velma Kelly and Roxie Hart, are two villainous protagonists jailed for outrageous crimes in the 1920s. "[Roxie] starts the show interrupting a big dance number with an affair and a murder so she starts off with a bang. She works for fame, that's all she wants the entire show," said Mallory Cestone '23.
The play has been adapted to an appropriate high school version, but the cast and crew are hoping to keep the play as close to the original as possible. "[Concord Theatricals] have taken out bad words, inappropriate content [but] it's still going to be a PG-13 event because it is still mature content, not like a Disney show," said Ms. Jennifer Shue.
The 1975 Chicago Musical was based on the 1926 Chicago play written by reporter Maurine Dallas Watkins. The play portrayed the criminals and crimes committed in the 1920s that she had investigated. John Kander, Fred Ebb, and Bob Fosse then wrote the jazz music and screenplay for the Chicago Musical that first debuted on June 3, 1975, at the Richard Rodgers Theater. This year also marks the musical's 25th anniversary since its revival on Broadway stages.
For some seniors, Chicago will be their last performance on the Passaic Valley stage. "I grew up with Mr. DeLuccia and Ms. Shue. They all saw me come in so young…and of course, I'm so sad to leave because it's such a tight-knit community. I'm excited to now see [others] take over the program and see what they can do…but I'm going to miss it," said Gabriella Cielo '22. "It's one of those shows where you're honored to play that part because everyone knows 'And All That Jazz' and it's one of those shows in the theater world that everyone knows and you immediately think of Velma and Roxie. So it's big shoes to fill but it's so much fun."
The entire cast is excited and honored to be a part of a musical as big as Chicago. "It's a very big personality that I have to fill, both the character and the people who have played [Mama Morton]," said Giron.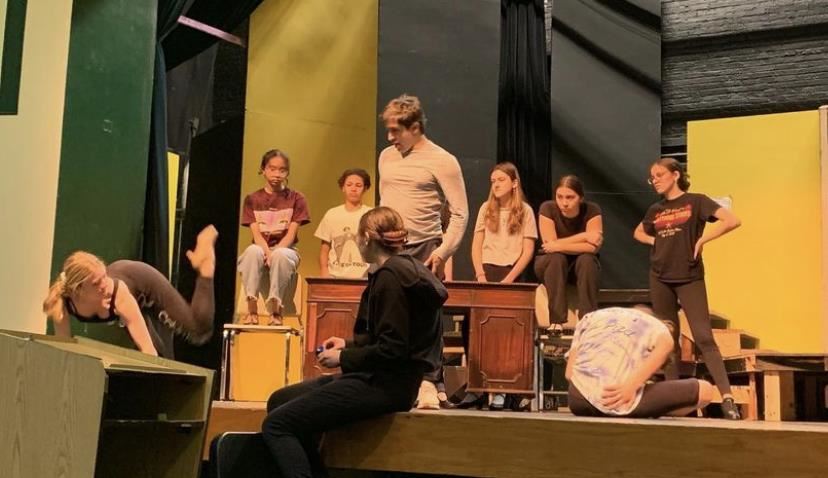 Jenny LeProtto and former PV student, Jess LeProtto, are the choreographers for Chicago and are working onstage with students who are grateful to be learning from them. Directors, Mr. DeLuccia and Ms. Shue not only hope that they put on a show-stopping performance but that students also gain something from the experience. As a close-knit community, Mr. DeLuccia and Ms. Shue encourage students to have fun with friends, perform their best, and take pride in their performances.
On March 6, 2022, the Chicago musical cast list was officially released. Below is a list including the characters and their respective actors.
Velma Kelly: Gabriella Cielo
Roxie Hart: Mallory Cestone
Billy Flynn: Christopher Perez '22
Matron "Mama" Morton: Emma Giron
Amos Hart: Noah Fuchs '22 and Hatem Haddouche '22
Mary Sunshine: Jeneily Ruano '24
Fred Casely: Connor Meletta '23
Fogarty: Paolo Figueroa '23
Liz: Sophia Colacino '24
Annie: Mykhayla Lopez '24
June: Sarah Zampella '24
Hunyak: Skylar Smith '22
Mona: Leighanna Navales '23
Kitty: Hailey Shafer '24
Harry: Julian Esquivel '24
Annie: Leighanna Navales '23
Mona: Jaylene Nogueira '22
Ensemble (These actors will be the announcers, dancers, reporters etc.):
Sophie Baker '25
Jasmine Campagnà '25
Juliana Cestone '23
Adriana Gutierrez '24
Julius Monochello '25
Jaylene Nogueira '22
Noemi Polanco '23
Samantha Ramos '23
Kristen Schubert '23
Aiyman Shanaa '25