Return to Headlines
PV Honors Mr. DeLuccia and Mrs. Wilks As Educator and Educational Specialist of the Year

Daren Lomuti '24
18 January 2022
---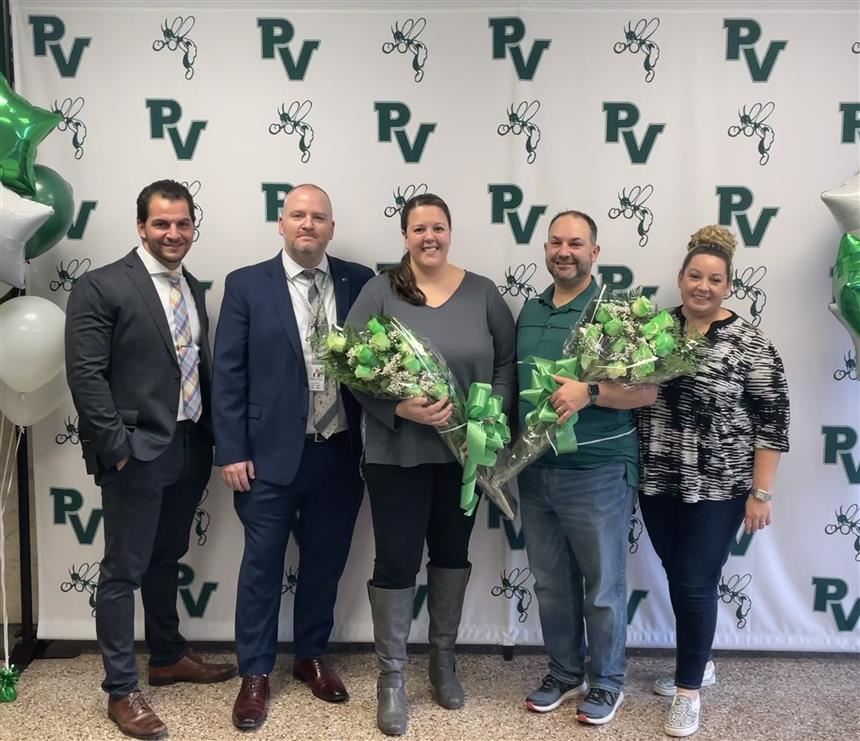 On December 9th, Passaic Valley honored Mr. Michael DeLuccia and Mrs. Erin McNeill Wilks as Educator and Educational Specialist of the Year, respectively. As alumni, Mr. DeLuccia and Mrs. Wilks have been integral members of the Passaic Valley community who embody Hornet Pride.
Educator of the Year - Mr. Michael DeLuccia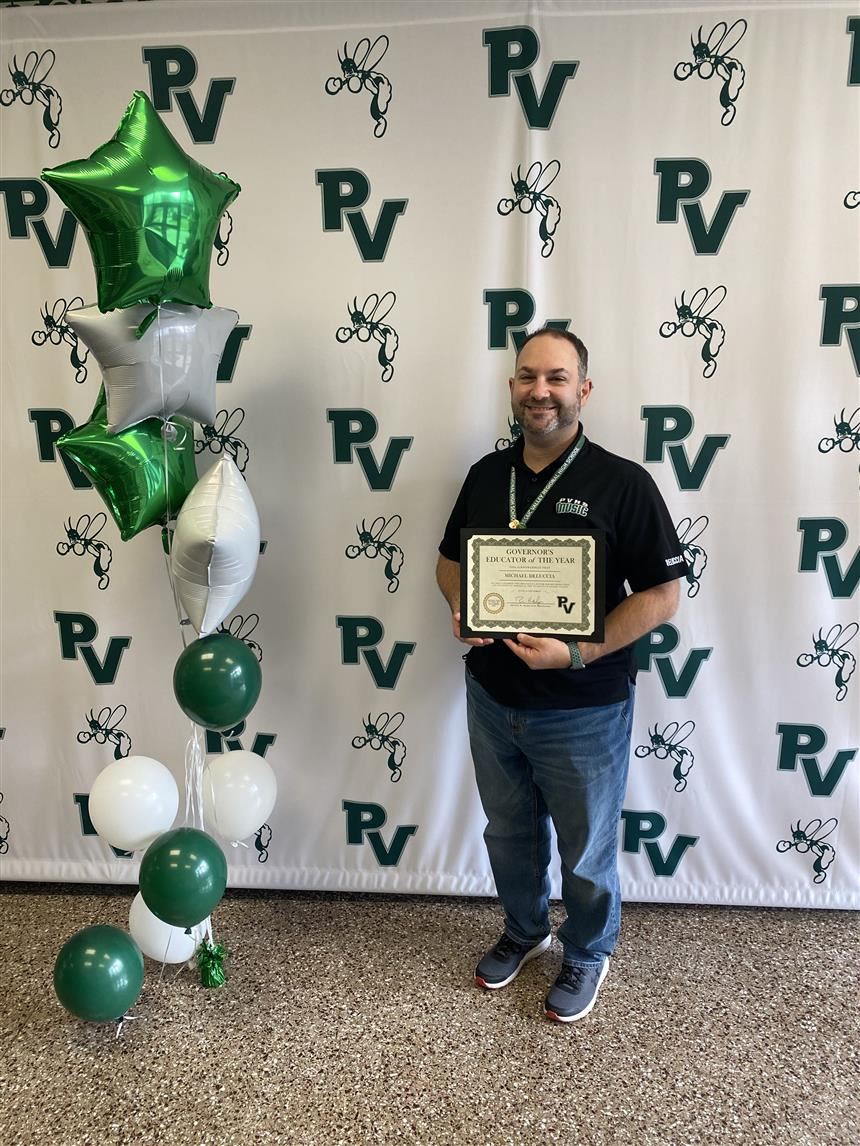 Mr. DeLuccia has worked at PV for over 16 years and teaches Concert Band, Concert Band Honors, Rock of Ages, and Music Exploration. After graduating from William Paterson University, he knew he wanted to pursue teaching. "I went to college for Music Education and right out of college I was fortunate enough to get an opportunity here, '' he commented.
Marching Band member May Billek '24 is appreciative of Mr. DeLuccia and his commitment to the band. "He is constantly trying to get new members and create new activities to get students involved," she Billek, who was thrilled to find out Mr. DeLuccia won NJ Educator of the Year after his hard work and dedication to his students. "Seeing his hard work shown through this amazing achievement is awesome. He inspires me to keep improving and become a better student."
Mr. DeLuccia believes that even after students leave Passaic Valley, they will always be Hornets. He says, no matter where students go or when they graduate, PV will always be a home for them. "I love when students come back to see what they are doing now," Mr. DeLuccia said.
Despite being surprised that he won, Mr. DeLuccia is honored to accept this achievement. "I was very shocked and I'm extremely humbled just to think about the people who nominated me," Mr. DeLuccia said.
Educational Specialist of the Year - Mrs. Erin Wilks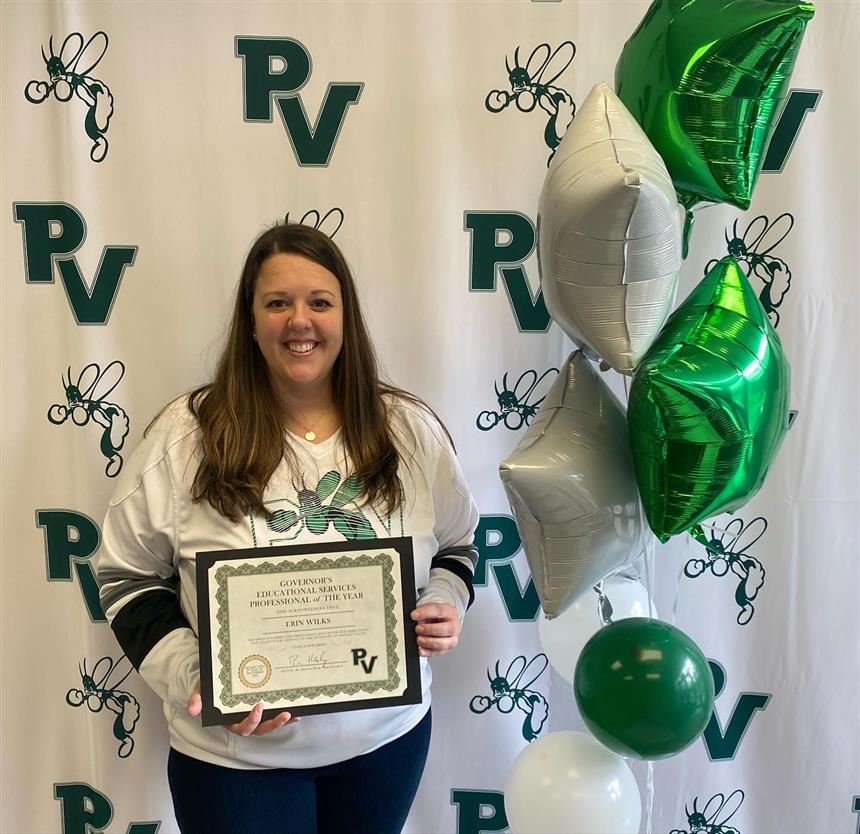 After graduating from PV, Mrs. Wilks became a big part of the school. She has been involved in many school responsibilities, such as being a part of the Child Study Team and being the Vice President of the Passaic Valley Education Foundation.
During a faculty meeting before winter break, the administration played a video of all the nominees before announcing the winners. After Mrs. Wilks found out that Mr. DeLuccia won, she looked down to text him congratulations. Then a staff member congratulated her as specialist of the year. "As an educator it's always your dream to receive that honor," she said.
Mr. Ken Burke works with Mrs. Wilks on the Child Study Team. Together, they identify students who may need extra academic, emotional, or behavioral support, and make sure that they receive the services that they require. "She demonstrates a strong desire to help every student that she comes across," Mr. Burke said. "She is a PV alum and demonstrates Hornet Pride in everything that she does. You can tell that this is more than just a job for her."
Mrs. Wilks has taught many classes and students throughout her time at PV. She believes that the school will always be her home regardless of the future. "I have such fond memories of being a student here," said Mrs. Wilks. "Now I get to be a part of other students' memories.''