Return to Headlines
Class Spotlight: CITVC, Learning From a Different Perspective

Olivia Manfredo '20
25 May 2020
---
The Contemporary Issues Through Videoconferencing (CITVC) class is an elective course available to juniors and seniors. CITVC allows for students to design their own learning experiences and be active in what they learn. "My students pursue speakers in subject areas that interest them, then they schedule the conference, moderate it with a peer and follow-up by leading a class reflection," explained teacher Ms. Kathleen Menake.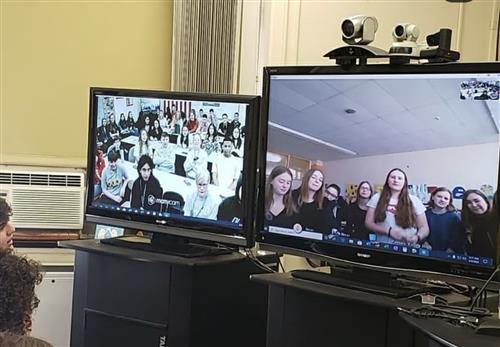 Selected interns are given the full responsibility for reaching out to brands, entrepreneurs and public figures, with the goal to schedule video conferences for their classmates. "Being able to participate in both the planning and execution of a successful conference has been very rewarding," said CITVC intern Gabriella Cordova '20. Interns take on incredible responsibility as their work is the driving force when speaking to individuals from all around the world.
CITVC is not a traditional class and Ms. Menake has created a course that strengthens a wide range of skills from interpersonal communication, planning, critical thinking, and reflection. Students enrolled in this course are constantly striving and open to speaking with new people, with the help of Ms. Menake's open-mindedness and positivity.
CITVC 2020 produced by PVTV's Juliana Turdo and Billy Pinckney
CITVC prepares students for life beyond high school. "Being exposed to this form of diversity and understanding the importance that it serves in our world is essential to developing one's character, enhancing experience, allowing individuals to view situations from different perspectives," said Samiha Allan '20. In CITVC, students participate in a few video conferences a week. After each week, students are required to write reflections to express their likes or dislikes of these conferences and their impact.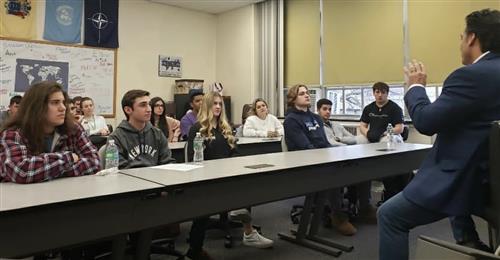 When students are not videoconferencing, Ms. Menake engages her students in conversation. No matter whether it be regarding issues in our world, future conferences, or political standpoints, there is always valuable learning going on in the classroom. "Ms. Menake has been a great support system for myself and my peers," added Cordova.
CITVC also allows for students to get to know one another. After spending so much time in the classroom together, members of the class learn about their peers' unique standpoints on issues and get to know them on a personal level. "I've been able to form genuine bonds with some of the individuals that we have conferences with, people I wouldn't have met without the class," said Allan.
CITVC has conferenced people from all around the world, and this year the class has been fortunate enough to conference with a high school in Germany, News 12 NJ meteorologist Michele Powers, interventional radiologist Dr. Justin Shafa, MLB umpire Phil Cuzzi, and University of Illinois professor Mark Wolters, among others. Students feel a sense of pride when scheduling conferences with some of their role models. "I was able to reach out to a Youtuber I've been following since middle school, while also providing for an enjoyable conference for my peers and I," said intern Justin Abreu '20.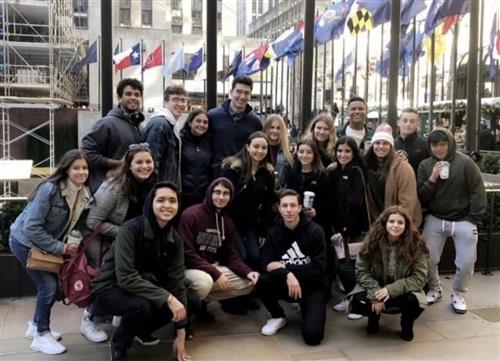 Health-related school closures have impacted how many classes operate. However, CITVC has been able to maintain their conferencing with social distancing. Since late March, students have conferenced with leaders including LSN Natasha Rosette, the seventh ranked gelato chef in the world Mike Guerriero, and licensed professional counselor Janine Standish over Zoom.
This course offers an educational experience that opens up the eyes of students. "This class gives you a glimpse of how the real world operates and teaches you several aspects of how to handle yourself in the real world," said Vincent Colavitti '20. Students learn persistence and the ability to push themselves far beyond their comfort zone. "Those skills were able to teach me how to hold a mature conversation with people I have had no previous encounter with."
"I would advise future students to never be afraid to express their thoughts, ideas, or opinions both during and outside of a video conference, but to always remain open-minded," said Allan. "Being able to understand other people's perspectives and being open to hearing them in the first place is what allows us to engage in meaningful conversations in CITVC."