Return to Headlines
Champion PJ Casale Finishes His High School Wrestling Career With 110 Wins

Abigail Kosch '24
8 April 2022
---
PJ Casale's senior season has come "full circle," finishing up his high school wrestling career at Passaic Valley. Casale will be graduating this June as a State, Regional, District, and League Champion, with 110 wins under his belt.
"To come back home and compete for my town and give back to those who have supported me, there's nothing else like wrestling with your friends and having your family support you," said Casale, who grew up in Little Falls wrestling for the Jr. Hornets Wrestling Program. "To have those who you've grown up with and those who have always been in your corner, to achieve all this and give back to them, it's awesome."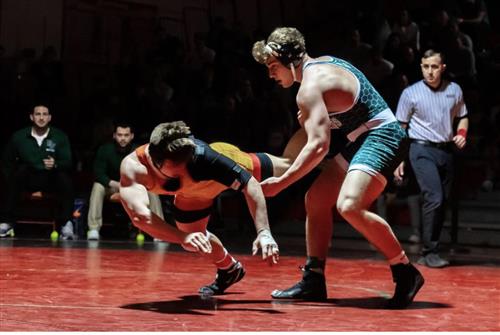 Casale enrolled at Passaic Valley after spending the past three years of his academic career at Delbarton School. There, Casale achieved most of his wins, but it was this past winter season at Passaic Valley that Casale accomplished the milestone of hitting 100 wins, something he was glad to do on his home turf. "It's an awesome achievement, and it's cool to be able to do it at home, to do it in the Gris," said Casale. "Growing up I've always watched wrestling, this was the first place I came to watch a match. To go from seeing the previous athletes wrestle, to now just putting on a show those last 30-35 matches at PV, it was just awesome."
"PJ is a world-class wrestler and having him back, wearing our colors, was gratifying in itself," said Superintendent Dr. Bracken Healy. "But, I was even more impressed with his attitude. He never made it about himself. PJ was genuinely happy to be here and wanted to represent the Green and White with dignity and honor."
This season, on top of his 110 wins, Casale received League, District and Regional championship titles, but credits his success to his parents and those who have had his back through his wrestling journey, including Passaic Valley Athletic Director Mr. Joe Benvenuti. "I've kind of given back to them because of how much they've given to me and the opportunities they've given me and presented me to all these clubs, not forcing it on me, but because I wanted it," said Casale.
Casale opted out of the second half of the high school wrestling season last year, which consisted of only seven matches due to the COVID-19 Pandemic, to wrestle as a world team member representing the United States. Casale also spent part of last season recovering from a leg injury, which took both physical and mental perseverance. "I think that's what a lot of people don't know about wrestling is that a lot of kids can do it physically and train hard, but the mental focus and getting mentally right play a huge part," said Mr. Benvenuti.
Casale's high school wrestling experience has been a wild ride, but coming home to Passaic Valley to finish up his career was a bittersweet experience for his whole team, family, and school administrators. "As PJ graduates, it's one of those bitter sweet moments, as I wish we had him for another year. But I am also extremely excited to watch him begin his new chapter at Rutgers University," said PV Wrestling Coach Mr. Joe Wassel. "As a coach, I only ever want my athletes to achieve their goals and then continue with that journey to surpass those goals and move onto new ones. PJ is not someone who seems like he would ever be complacent in his life. I hope that he continues with that attitude to never be satisfied and always continues to push himself daily toward new heights. I hope that whatever goals he sets for himself at the collegiate level, he relentlessly works towards them and continues to achieve them. I think I know what PJ wants to achieve as a collegiate wrestler, and I look forward to watching him get to the top where he is meant to be."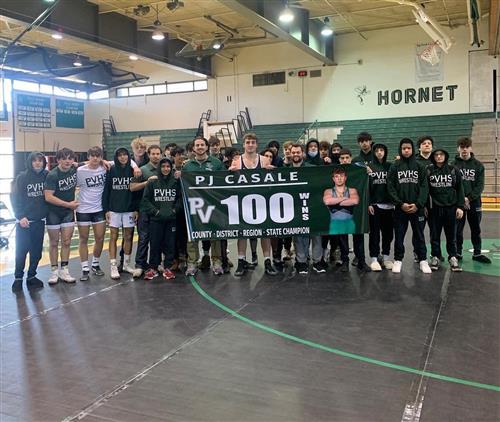 As he prepares to continue wrestling at Rutgers University, Casale leaves behind a legacy that younger student athletes at Passaic Valley can look up to and strive to meet. "The younger kids and even the kids on the [wrestling] team get a firsthand look at the way an elite athlete trains, thinks, acts, all those things. I think that legacy that PJ leaves behind will live for a long time," said Mr. Benvenuti.
In addition to his athletic achievements, Casale assisted in running events for the Jr. Hornets Wrestling Team, a feeder program for Passaic Valley. "That one practice turned into them always being like, 'What's up, PJ?'. They run up to you telling you like, 'I won this,' or, 'I tried that thing you said,'" said Casale. "It's one of the best feelings in the world, just having that reassurance that you helped those kids. You're building their confidence just a little bit more, and it doesn't have to just be in wrestling. It's cool to see how they look up to you."
Casale was once in the same shoes as the younger kids he now mentors. Beginning his wrestling career as a Hornet in the Jr. Hornets program, Casale grew up watching Passaic Valley alumni wrestle in the Griswald Gym, hoping to one day wrestle on the mat at PV and achieve great things. 12 years later, he is a role model for not only younger athletes, but even staff, students and the rest of the Passaic Valley community. "From the very first day of practice this year, I saw very strong leadership qualities in PJ. He displayed a relentless work ethic and determination that I have only seen in a few individuals throughout my coaching career," said Mr. Wassel. "PJ embraced the Hornet Wrestling Tradition from day one and that continued until his last high school match, in which he waved to the Passaic Valley audience in Atlantic City and pointed toward the PVHS on his chest following a tough defeat. To be able to show that type of class and appreciation for the community in that difficult moment is what being a Hornet is all about. I think every wrestler and coach that has ever come through this program realizes that we are all a part of something bigger than ourselves and that is the type of pride PJ displayed throughout the season."