Return to Headlines
Senior Jessier Soriano Leaves Behind Impressive Legacy, Setting New PV & North Jersey 800m Track Record
Abigail Kosch '24
28 February 2022
---
Passaic Valley track star Jessier Soriano '22 ends his Winter Track career with some very notable achievements and a strong legacy for future Hornets. Soriano's accomplishments include being named Track and Field Athlete of the Week, breaking a 13-year Passaic Valley record, and making 1st team All-Conference for both the 800 meter and the 4x400 meter.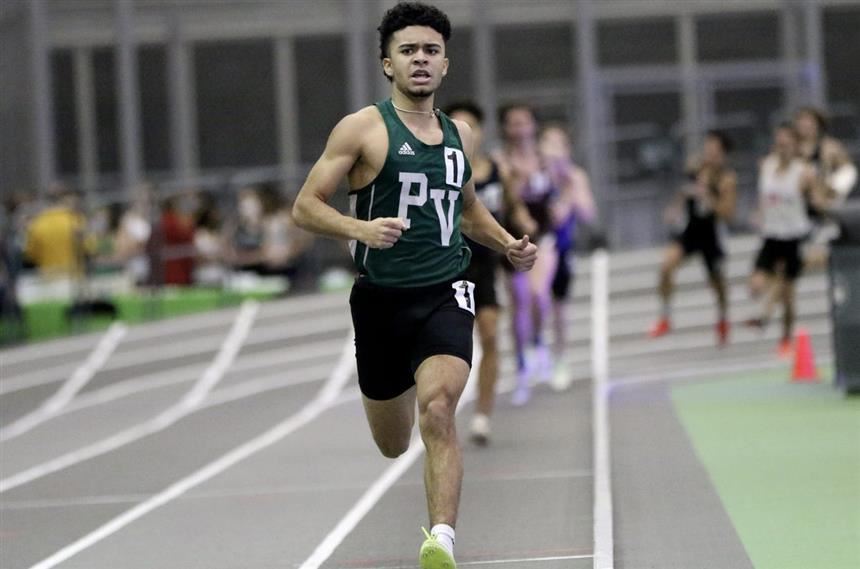 "Jessier is a master of himself; he's driven to get to the next level of what he wants. The kids are able to learn through him how to get better and excel," said Track and Field Head Coach Joel Thornton. "The other athletes are able to see that and pick up on that, they learn from it and realize it's more than just practice."
Soriano has a long list of accomplishments for the 2021-2022 Winter Track season. Accolades such as 1st team All-Conference for the 800 meter event, 1st team All-Conference for the 4x800 meter event (along with teammates Gawad Alhau '24, Leith Matari '23, and Basell Dahhan '24), and 2nd team All-Conference for the 4x400 meter (along with teammates Anthony Scielzo '22, Tavi Victoria '24, and Leith Matari) highlight the senior's successful final winter track season as a Hornet.
This season, Soriano set a new Passaic Valley Track record for 800 meter time, 1:58.24, also setting a record for all of North Jersey. The previous PV record was held for 13 years by Nico Stabile. "I was actually going to switch jerseys and have Nico Stabile's," said Soriano. "I wanted to break the record in his jersey, but [Eddionel Gonzalez '22] told me you want to do it in your own jersey, you want to set it in your own jersey. I was excited about that, because Nico was a great runner. I was ready for it next. It was definitely a stepping stone for me."
Soriano's hard work and dedication to his sport have not gone unnoticed, as he was awarded NorthJersey.com's Track and Field Athlete of the Week for the week of January 24-30, the week he set his record breaking time at the Passaic County Champions Meet. "You had some other great guys nominated, but it definitely felt cool to get this achievement," said Soriano.
Soriano's representation of Passaic Valley student-athletes doesn't stop after he steps off the track, as he was selected earlier this school year to be one of Superintendent Mr. Bracken Healy's Superintendent Ambassadors. Soriano also looks to have his success and achievements carry over into this spring's Track and Field season, and hopes to continue pursuing track in college.
Soriano puts in countless hours into his preparation, always looking to get better. "He's driven, he's focused. He's a winner, he always wants to win. He never accepts defeat." said Assistant Coach Erik Getz, who has coached Jessier for the past four years. "He's always working 100% and he never goes easy during a workout or a meet. He gives everything he's got every time he gets on the track."
Soriano began his track career his freshman year as a part of the spring Passaic Valley Track and Field team, and continued to run cross country and winter track in the following years. "As a freshman, he had a really great group that stayed together. From there, they were able to see a great group of varsity athletes ahead of them, to show them how to lead, to show them success, and then they were successful on their own level individually as a result," said Mr. Thornton. "They excelled as freshmen well ahead of other athletes. We tried to throw him into as many varsity races as possible so he could experience what it takes."
Over time, Soriano became more and more disciplined with his training, and began looking to continue to beat personal records and get better every race. "Jessier knew where he needed to be, even as a freshman," said Mr. Thornton. "Every year, Jessier was able to look out and say, I want to break 2:15, then 2:10, then 2:05, and so on. Being able to see the end result as a freshman and what you needed to do to get there, he was really able to focus and that's where you see his success in his senior year with his times."