Return to Headlines
Basketball Star Brian Whitney Hits 1,000 Career Point Milestone; Awarded Athlete of the Week
Abigail Kosch '24
15 February 2022
---
Tuesday, January 18th wasn't an ordinary game for Passaic Valley basketball star Brian Whitney '22. That night, play had been stopped in the midst of the game. A player didn't get hurt. A timeout wasn't called. Whitney had scored his 1,000th career point, joining only six other PV alumni athletes to reach the milestone.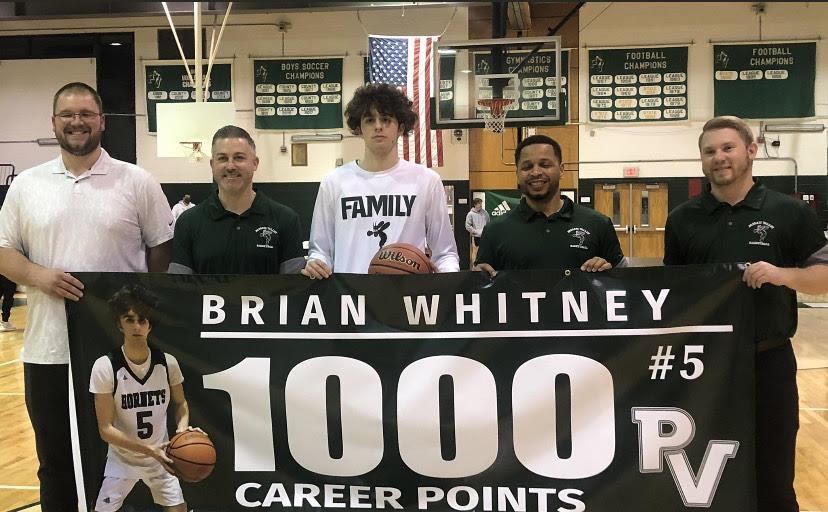 With family, friends, and community members cheering in the stands and his teammates by his side, Whitney was handed a banner with his picture on it and in big font: Brian Whitney #5, 1,000 Career Points. Whitney had finally achieved something he'd been looking forward to accomplishing for years.
Whitney, a four-year varsity basketball player, has put up 552 points in 20 games this season, an incredible statistic on its own. "This year he is just taking off and has become an elite player in the county and state," said Boys' Basketball Head Coach Kevin Tuohey.
Whitney is just one of seven male athletes to ever reach the 1,000 point mark in Passaic Valley history. "What makes Brian's accomplishment so special is that something like this does not happen very often," said PV Athletic Director Joseph Benvenuti. "What makes this achievement even more impressive is that Brian did this with a shortened schedule last year due to Covid. Passaic Valley is very proud of Brian and we congratulate him on joining such an elite group of student athletes on that list before him."
As of February 11th, Whitney averages 27.6 points per game, and holds the North Jersey season-high for points scored in a single game with 49 points against Eastern Christian High School.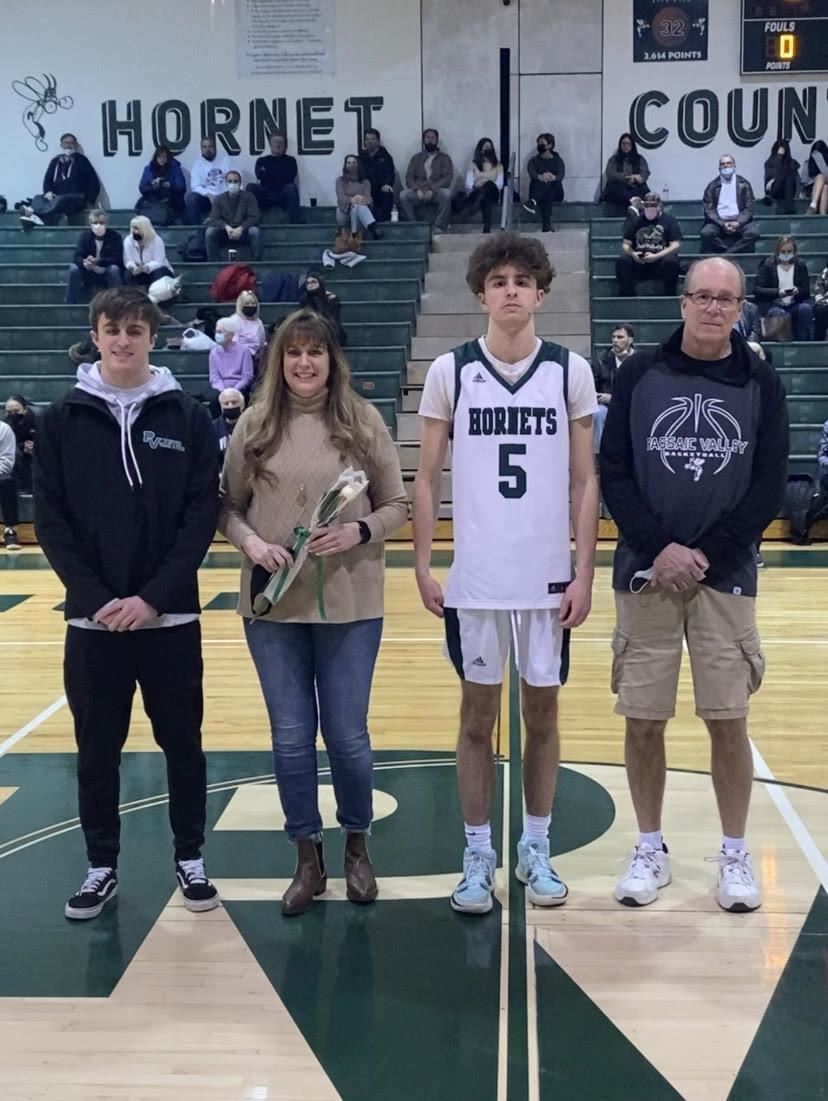 The week of January 28th, NorthJersey.com selected Whitney as its Athlete of the Week. It is well known among athletes in North Jersey that when a player wins NorthJersey.com's Athlete of the Week, artist Charlie McGill draws a caricature of the athlete. "I've always wanted to [achieve this accomplishment], I've been talking about it since freshman year," said Whitney. "I also knew that I wanted to do more than just score 1,000 points. It felt really good to get this."
Achieving what Brian has doesn't come easy. "Players like [Whitney] develop and work on their game continuously in the off season and that is what Brian has been doing his entire life," said Coach Tuohey.
As an athlete, one has to be disciplined and dedicated to their sport. Before the season began, Whitney continued training and getting prepared for the upcoming season. "I shot a lot over the summer, and I played with my teammates a lot before the season," said Whitney. His hard work and dedication has paid off, and Whitney is achieving things any senior athlete would be ecstatic to attain in their final season at their high school, leaving behind a legacy of their own.
A huge part of Whitney's success comes from the support of his fellow teammates. "They are all friends off the court, so when you have a group that is close on and off the court, it just makes everything more rewarding for each other," said Mr. Tuohey. "They were all so happy because they know how hard it is to accomplish that milestone and were all happy they were a part of it." Whitney's teammates have all played a role in his success and have helped him get to where he is today.
When it comes to sports, teammates who celebrate and play a role in each others' successes enable the team to have more successful games and a stronger bond within the team as well. "Team chemistry is vital to a team's success," said Assistant Coach Michael O'Brien. "Brian is the type of guy that makes sure that everyone in the program feels a part of the team. In a sense, Brian has made this team feel more like a family that helps each other both on and off the court. Brian possesses qualities that are uncoachable. His leadership trickles down to each and every player in the program."
Whitney's leadership and example extend beyond the basketball court. "Reaching 1,000 points during your high school career is quite an accomplishment. But what is most impressive about Brian is his commitment to academics and citizenship," said Superintendent Mr. Bracken Healy. "He understands that winning off the court is just as important as performing on the floor. We could not be any prouder of his accomplishments.
Whitney has been playing since kindergarten and looks to continue his basketball career in college. "Brian Whitney exemplifies Passaic Valley Pride by giving his very best each and every time he enters the gym," said Mr. Benvenuti. "Brian is the epitome of Hornet Pride because he cares deeply about the name on the front of the jersey. He is a great teammate and someone that is always making our school and community proud. Brian Whitney is definitely someone we appreciate and are grateful for as a leader for our Hornets athletic teams."