Return to Headlines
Teammates and Families Honor PV's Senior Athletes on Senior Day

Ava Mania '24 and Daren Lomuti '24
25 October 2021
---
Senior participants in fall sports were honored in the closing weeks of the season. Coaches collaborated with their younger players to organize memorable celebrations, like surprise parties and honorary ceremonies.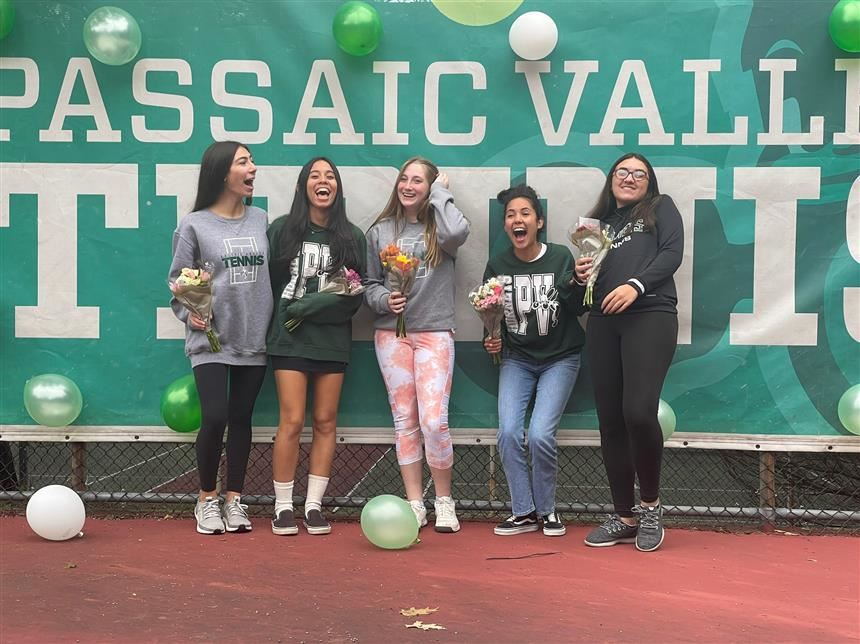 Passaic Valley's Tennis Team celebrated their seniors on October 5th by showering their players with gifts and throwing a courtside party. "[The underclassmen] gave us swag bags, flowers, and a bracelet I will wear forever," said Captain and four-year player Cassidy Baer. "Mr. Holsworth got us pizza and the girls brought snacks and drinks."
Posters, streamers, and balloons were hung around the courts. "I don't even have the words for how I felt that day. The girls truly went all out and gave us one of the most memorable days of our lives!" said Baer.
Senior football players, cheerleaders, and band members shared a celebration on October 9th. The names of honored participants were announced, as they walked with their relatives onto the football field. "The parents and the school have done so much for us seniors to make sure that we have a good year and a good season, and I'm very thankful for that," said senior football player Hatem Haddouche. "I'm also thankful for my coaches who have helped guide us every step of the way. It was a very emotional experience."
Senior cheerleader Jordan Newbury, who has been a part of Passaic Valley Cheerleading for four years, helped plan the surprise for the senior football athletes. "We arranged decorations for the boys by getting everything done during the week. On Fridays we could all help each other and make posters and banners," Newbury said. Freshman cheerleaders decorated additional posters, which hung on the field's surrounding fences, for the senior cheerleaders.
Following their home meet on October 11th, Coach Jenai Agosta gave speeches addressed to each one of her senior gymnasts. The personal ceremony was an honor to the upper-classmen gymnasts and an inspiration for the younger athletes.
On October 14, Boys Soccer celebrated their senior athletes in a pre-game ceremony. Parents and relatives were invited to the event as the team honored their senior players for one last time.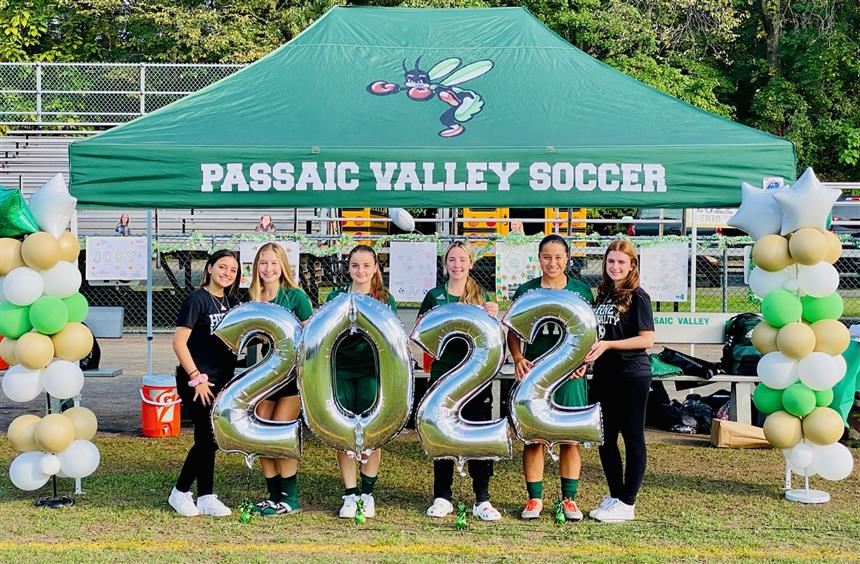 On Friday, October 15, Girls Soccer commemorated their senior athletes by taking their final walk on the field and into the soccer goal. The other members of the team spent the day decorating and preparing for the event by assembling gift bags and making posters. "Each year it is important to honor the senior members of the team. We recognize their hard work and dedication to the program over the years," Coach Kathleen McMaster commented. "Each senior was accompanied by family members, and they were presented flowers and gifts by younger players." The team enjoyed a personalized cake which displayed a photo of the six graduating players.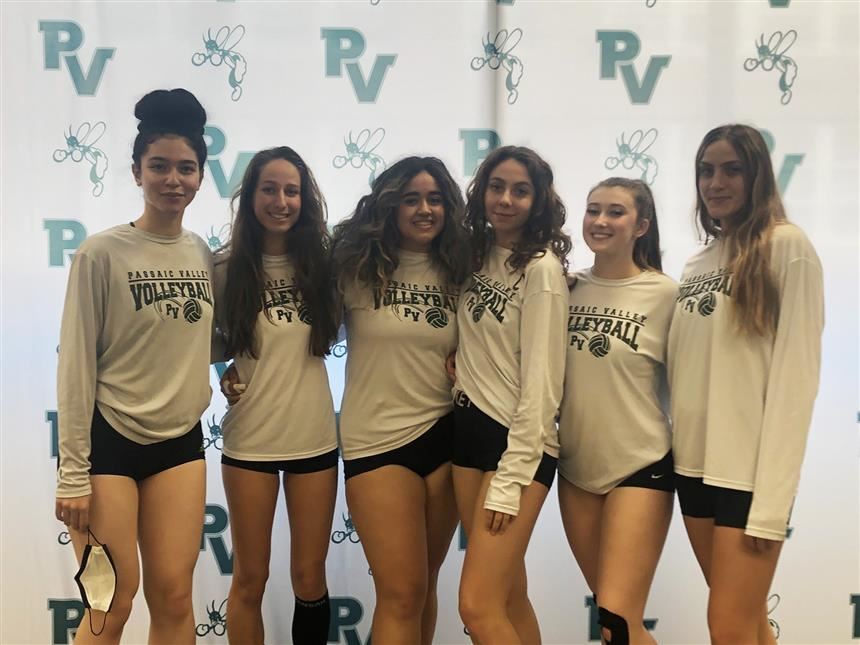 Senior members of Passaic Valley's Girls Volleyball Team were honored on October 20. The families of the seven senior players escorted each girl onto the court before the start of the last home game. As a surprise, the gym was decorated and a team party was thrown. "I felt so appreciated and special on Senior Day," said Captain and four-year player Julia Hosri. "My teammates made my send off so memorable and the day as an entirety was filled with such love and fun."
The team enjoyed food, music, and a photo booth after the game. "PV Volleyball has been a vital part of my experience as a student athlete at PV," continued Hosri. "I am so grateful for the people I met along my journey, as well as the lessons I have learned from my coaches and teammates."
Passaic Valley's Field Hockey Team's senior celebration was held on October 22. The names of the senior players were called as they collected their bouquets of flowers. Each girl was given a special poster, which displayed team pictures taken throughout their time at Passaic Valley.
The Senior Day tradition provides gratitude for the dedication and hard work of the senior athletes as well as a send-off for the next phase of their academic and athletic careers. "Not only do we acknowledge them as graduating seniors, but we also celebrate all their other accomplishments during their time at Passaic Valley," said Coach McMaster.