Return to Headlines
PV Wrestling Ends Impressive Season with a League Title and Coach of the Year Honor

Devyn DiPasquale'21
1 June 2021
---
The Passaic Valley Wrestling Team added to PV's impressive year in sports by finishing with a 7-1 record. The team also won a league title and Coach Joseph Wassel was named Big North Coach of the Year.
With a shorter 2020-21 season, PV Wrestling focused on their main goal from the very beginning. "Going into the season we knew there would be no County Tournament, District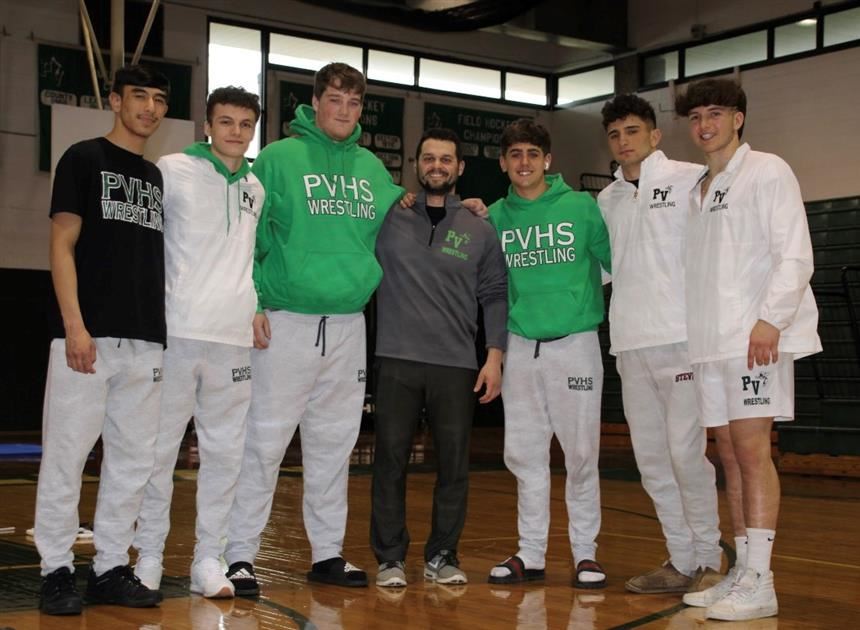 Tournament, or State Sectional Tournament. So as a team, we knew there was really only one goal to accomplish together and that would be to win a League Championship," said Coach Wassel. "So we circled every team in our league on our schedule and prioritized beating those teams to capture the League."
Besides winning the league, the Hornets had tremendous individual success. "We had four wrestlers qualify for the North 1 Region Tournament which was the toughest regional tournament in the State of New Jersey. Connor Kerwin, Matt Ciarlo, Ghazi Mustafa, and Guy Fontana all met the first goal of qualifying for the North 1 Tournament," said Coach Wassel. "Unfortunately, we fell short of advancing to the State Tournament in a year where this was harder than ever before. They should still be extremely proud of what they accomplished."
The senior leaders of this team were key to the Hornets' success this season. "It means a lot to me to know that I left PV with a title. That title will be on the board forever and other teams will look up to it. It also means a lot because it was Coach Wassel's first League Championship as a head coach" says Captain Christopher Younes '21.
Coach Wassel was named Big North Coach of the Year. Coach Wassel has been the Head Wrestling Coach since 2018 and has already been named Coach of the Year two times. "Winning Coach of the Year isn't something I think about or set as a goal at all when the season starts. We set team goals and at the end of the day, the athletes are what make things happen," said Coach Wassel. "They did an incredible job and bought into what we preach as a staff and it paid off for them. They made it easy to coach such a hard working and talented group of guys. They are the reason I was Coach of the Year as they are the ones actually wrestling so I owe that award to them, because at the end of the day they are the ones that earned it! I'm grateful, honored, and humbled to have had the opportunity to coach these boys and watch them succeed."
Despite this recognition, Coach Wassel gives much of the credit for the team's success to the athletes, particularly the upperclassmen. "This League Title is a testament to our senior leadership. Our captains Nicholas Vasta, Matt Ciarlo, Guy Fontana, Christopher Younes, Justin Castaneda, and Colby Sellitto played a huge role in making sure everyone was working hard on a daily basis. Other seniors like Ghazi Mustafa, Jan Thabet, and Josh Diaz also showed great leadership and effort to ensure that the young guys understand what it means to be a PV Wrestler," explained Coach Wassel. "We as a staff challenged them to strive for this League Championship and they set their sights on it to accomplish that goal. It has been six years since we last won a League Title in 2015, so winning in a year where everything was extra difficult makes it even more special."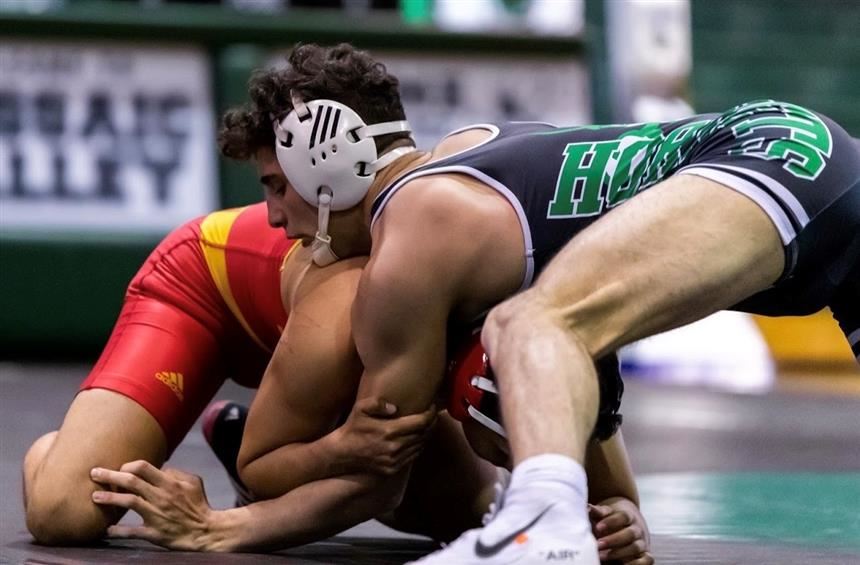 The captains leave younger wrestlers with this advice: "Just keep grinding and working hard. Coach Wassel is going to push you guys and that will be the reason you will be successful. All credit to Coach Wassel for how hard and how much he truly cares about us. We have such a talented, hard working group of younger kids that helped push us as seniors this year. Stick together and stay as a brotherhood and good luck to my younger guys," said Nicholas Vasta '21.
"Take advantage of what you have because four years really flies by fast. Work as hard as you can and it'll be worth it at the end," said Younes. "Wrestling is easily one of the hardest sports, but all that hard work and dedication is worth it when your hand is raised".
With COVID-19 the high school wrestling season in New Jersey was pushed to a "fourth season" in between winter and spring sports. COVID-19 also caused new protocols to be put in place for the season such as temperature checks, questionnaires, sanitization measures, and contact tracing. Unfortunately, PV Wrestling missed a few of their matches due to COVID-19, despite an already shortened season.
The Hornets had a tremendous season and Passaic Valley is so proud of the Hornets and their outstanding work this season. "If I had to put this season into one word, it would be 'rewarding'! Early in the year, we did not know if we would have a season, so just the simple fact that we were able to have a season and compete was a reward in itself. The League Title that came with it was just the icing on the cake," said Coach Wassel.