Return to Headlines
New Superintendent Ambassadors Program Provides Students With a Voice

Ava Mania '24
16 March 2021
---
Superintendent Mr. Bracken Healy has implemented a Superintendent Ambassador program for the 2021-2022 school year. A committee of twelve students, with three representatives from each grade level, meets monthly with Mr. Healy and staff, representing the voice of the student body.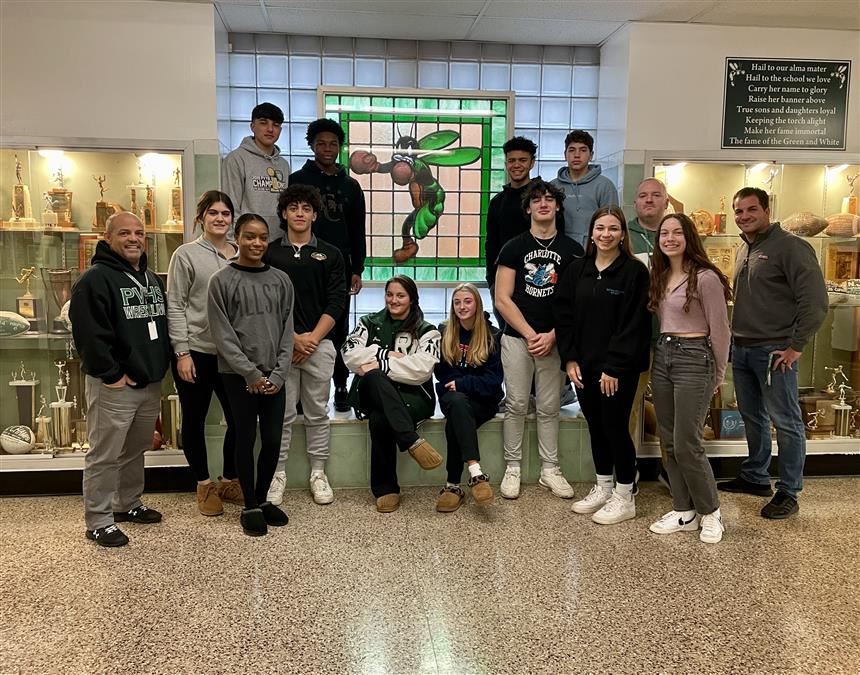 Student Ambassadors:
Grade 12: Jenna Anevski, Chyna Sinclair, Jessier Soriano
Grade 11: Katharine Cottone, Sophia Guarente, Leith Matari
Grade 10: Damian Kribs, Kaiden Rodriguez, Ali Stefanelli
Grade 9: Kacey DiPasquale, Ayden Mulroony, A'Meire Simpson
Mr. Healy's passion for working with students prompted his implementation of the program. "For me, it was a no-brainer. It gives me an opportunity to speak with students, engage with them, interact with them, and collaborate with them. I think that's what good administrators do and what good teachers do. We want student input, and this committee allowed us to get just that," said Mr. Healy. "I want a positive environment that is conducive to learning. That's really the whole idea behind giving the students a voice: to make sure that we are doing things that are in the best interest of our students."
Once a month, Mr. Healy invites the ambassadors to have lunch and share their thoughts. He usually begins each meeting by simply asking, "What's new?". Ambassadors vocalize their own concerns and suggestions for improvement, as well as advocate for their peers and make recommendations in an open discussion. "Topics discussed range from school climate, facility upgrades and academic needs," said Mr. Healy. "We believe it is important to listen to the student body and have a read on all of PV's strengths and areas of improvement. Together we will change this school for the better."
This past November, "[administration] sent out a Google Form to be filled out by any students interested in being Student Ambassadors," said Mr. Healy. Students who wanted to share ideas on how to "enhance programs, activities, and overall school culture" submitted applications which were then sorted by a committee of administrators.
85 applications were received, and the selected participants were announced in December. "We tried to get an array of academic students, students that are involved in clubs and activities, and students involved in athletics. We try to represent general education and special education, so we have a good variety of student voices as part of this committee," said Mr. Healy.
Senior athlete and PVTV member, Jenna Anevski was inspired to apply to be a Superintendent Ambassador because of the deep passion she has for Passaic Valley and its community. "Earning this position means so much to me. It means I have the ability to help make progress throughout PV and make it a stronger and more amazing experience for future Hornets," said Anevski. "This program is such an important addition because it allows the students, their families, and everyone in the Passaic Valley Family to be heard. With this committee, there is room for more success and it is such a powerhouse group of leaders who want nothing but the best for Passaic Valley."
Only a few months into the program, the ambassadors have already been successful in furthering the legacy of Passaic Valley and promoting the school community to younger students. "Everyone knows all the great things that we're doing once you get to school, but the kids that aren't here don't really know of the things we have to offer," Mr. Healy explained. "The Ambassadors have been instrumental in trying to identify and highlight our best areas so that when we go down to the schools we have a pitch that makes sense, and people can band together and swarm behind."
Junior ambassador, Sophia Guarente, who is both honored and eager to serve PV, recognizes the notable accomplishments they've achieved in a short period of time. "In just four meetings, we have discussed some problems at PV and how we can fix them. This program, in the little time we have met, is such a great outlet."
Mr. Healy and the Ambassadors stress that the program has exciting plans and additions which will revitalize the school and its community.
Mr. Healy has already noted a change in the atmosphere while working closely with students and continuing to foster healthy relationships with staff. "The students want to be here and they seem more happy. The teachers have been phenomenal, they seem very energetic, and so far it's been a good experience for all," he stated.