Return to Headlines
Students Show Their PV Pride During Spirit Week

Ava Mania '24
12 November 2021
---
During the week of October 25th, Student Senate hosted PV Spirit Week. Grade levels competed in numerous activities. Spirit Week generated involvement and PV pride for the weekend's Homecoming Game.
Throughout Spirit Week, students were encouraged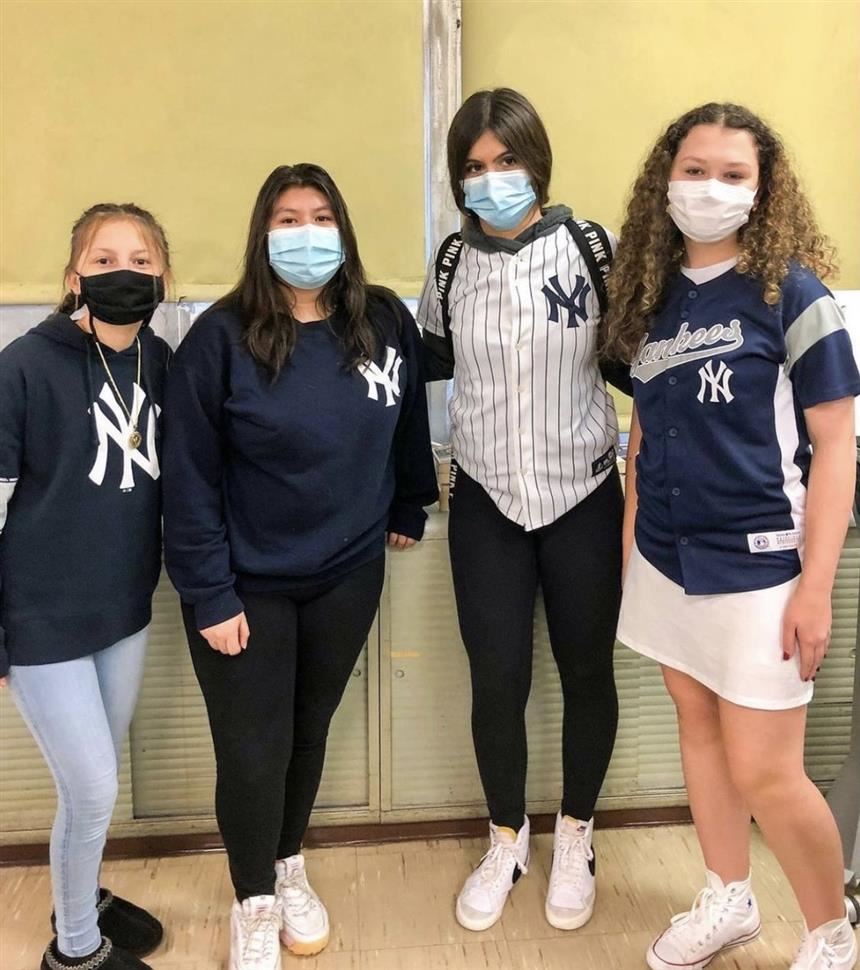 to dress according to a specific theme each day. On Monday, students wore Passaic Valley gear for PV Pride Day and proudly represented their community. On Tuesday, students dressed up in their favorite sports team's apparel. Wednesday was Pajama Day. On Thursday, students wore their Halloween costumes. Students ended the week with a Color War and dressed in their assigned grade colors: freshmen wore blue, sophomores wore red, juniors wore green, seniors wore black, and staff members wore white.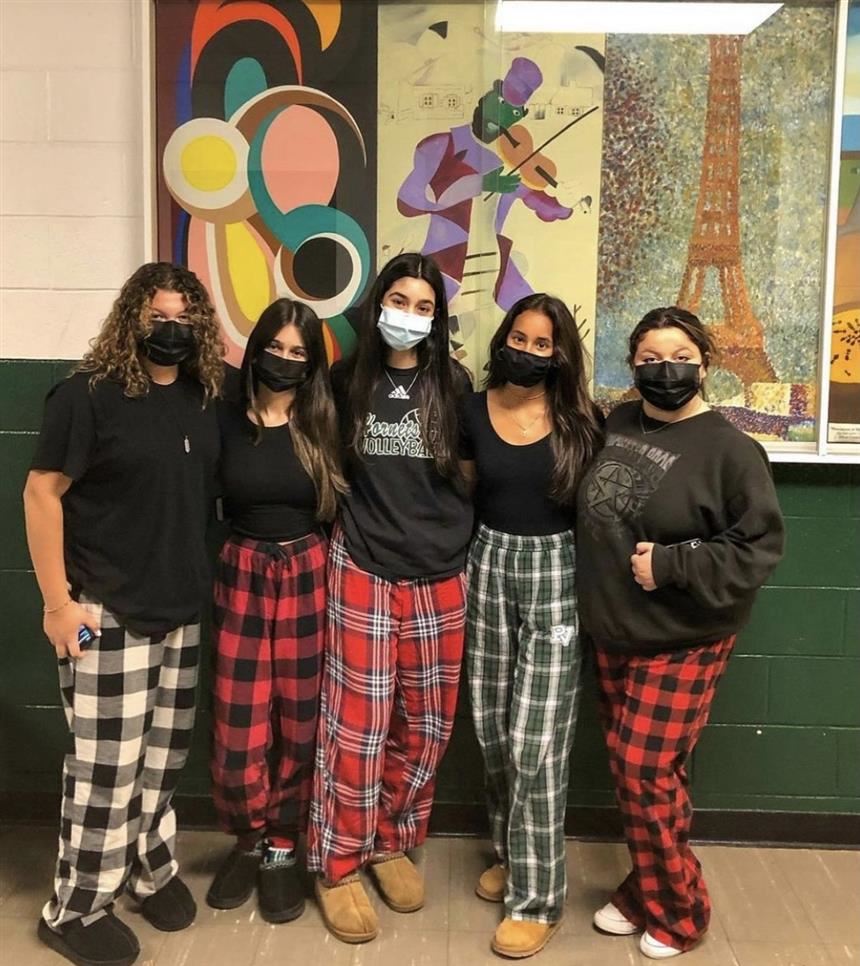 Student Senate President, Lia Trewhella '22 thinks that Spirit Week was the perfect way to bring the school community together to celebrate Homecoming. "Spirit Week is a Passaic Valley tradition that the Student Senate was excited to bring back this year," said Trewhella. "The Student Senate worked diligently to promote and participate in the events and I think that we saw most of the school was enthusiastic to participate."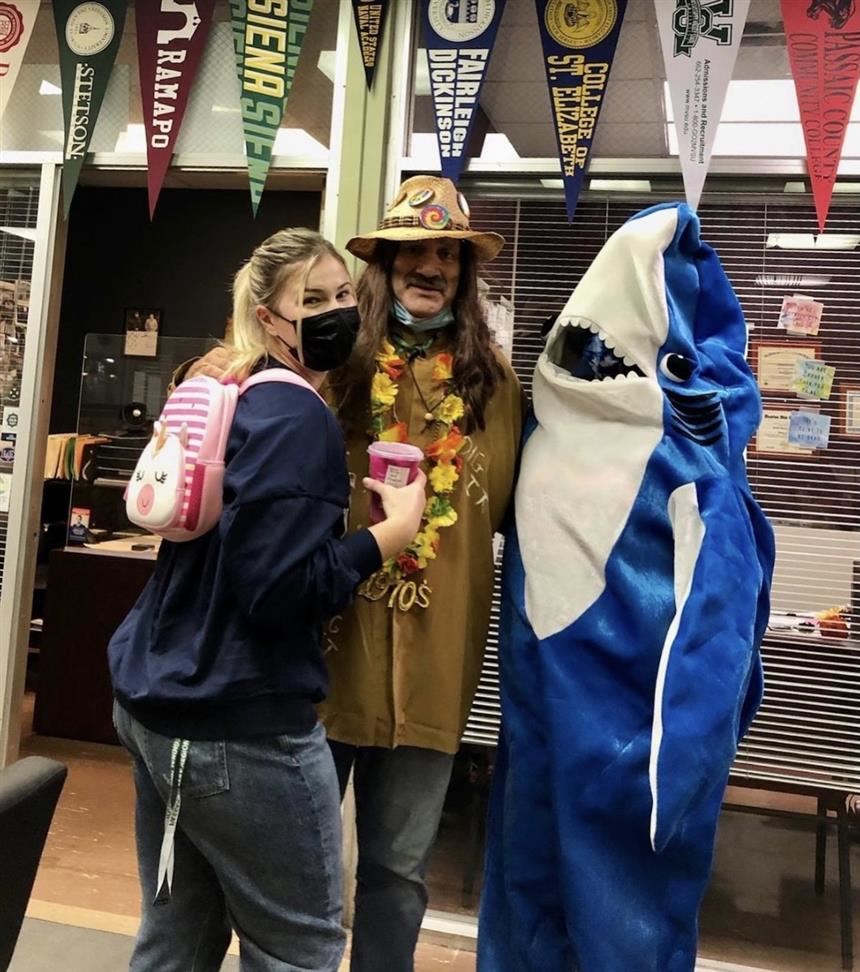 Students also participated in Penny Wars throughout the week, a competition held by the class officers and advisors of all grade levels. The goal of the competition was to obtain the most points by the end of the week and raise funds for their graduating class. To do so, students placed pennies in their own class jug and silver coins in their opponent's jug. Pennies were worth one point each, but anything of greater value deducted points equal to the cent value of the coin from the class totals. The freshmen competed against the sophomores; and the juniors competed against the seniors. The sophomores and juniors won their respective battles. Earnings were pooled together and split 60% between the winning classes and 40% between the other competing classes. All grade levels showed incredible effort and enthusiasm, leading to a significant fundraiser for all classes. The freshmen finished with a score of -39,955 points, the sophomores -14,424 points, the juniors -16,736 points, and the seniors -17,756 points.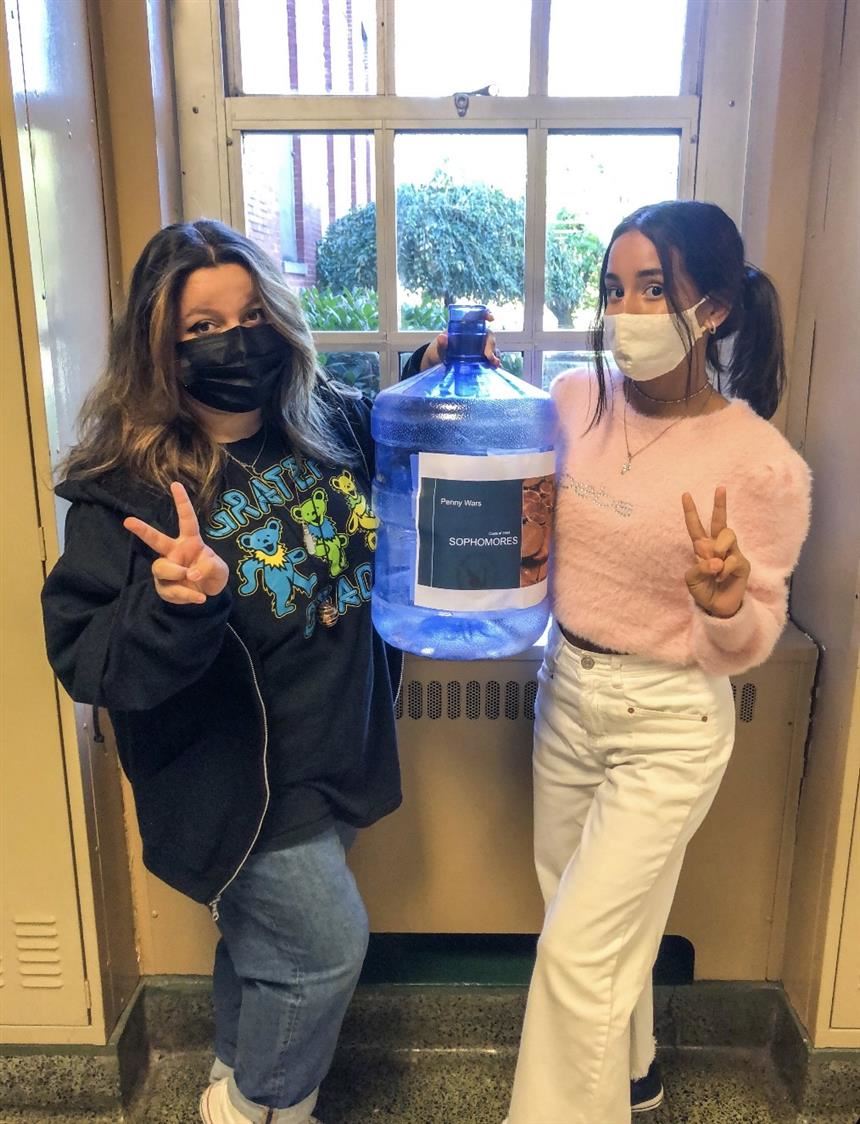 The Class of 2024's team of advisors and officers turned to social media to help spread school spirit, and motivate their peers to donate. "This [Penny Wars] helped inspire everyone to share their school spirit and represent our grade well," said Class President Samantha Gutierrez. "Participation involving class activities is crucially significant, because it ties the Hornet Family together and makes one another feel more connected to the school."
2023 Class President Amanda Rausch and her fellow officers used a similar strategy. "Through word of mouth and Instagram, the Student Council was able to encourage everyone to participate in all of the ongoing activities," said Rausch. "I felt that the more we posted, the more support we got from the juniors in terms of wearing green and putting pennies in the jars. Participation is truly vital in class activities as it really helps to generate school spirit!"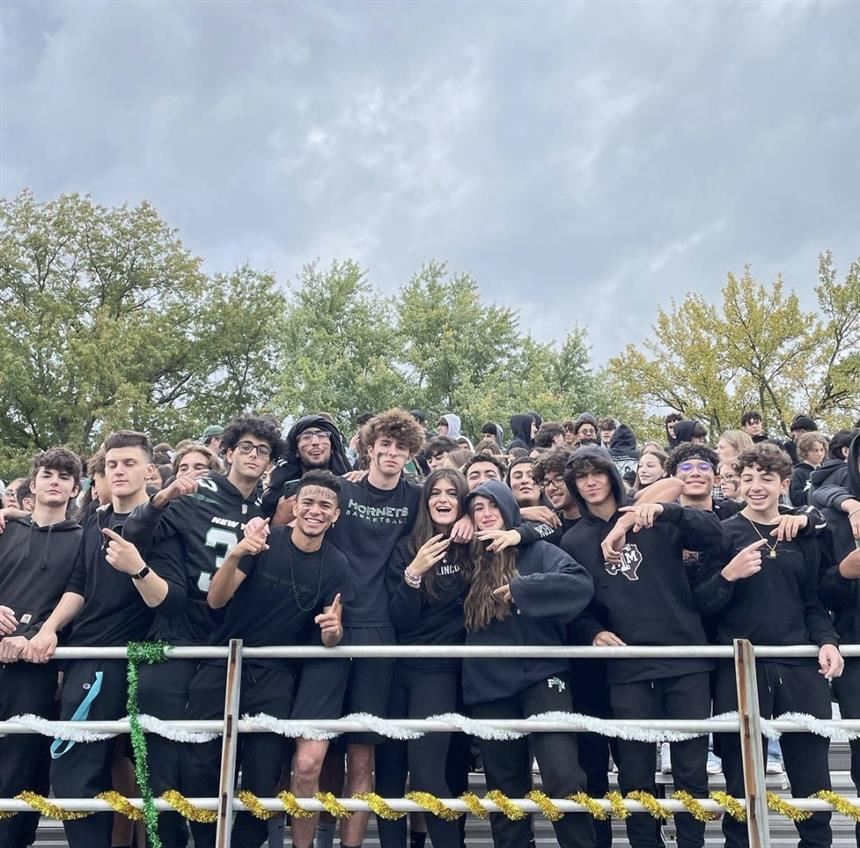 On Friday, October 29th, students attended a pep rally before the weekend's Homecoming Game. Wearing their respective Color Wars attire, grades competed for the title of Most Spirited. The Senior Class displayed their PV Pride, even making custom t-shirts for the competition, and claimed the victory at the end of the rally. "The class was super excited to win, especially because it is our senior year and we tried to show as much school spirit as possible," said Class Treasurer Emma Seber '22. "My class was making t-shirts for any senior who wanted them to spread the word of the pep rally and the Color Wars. It got the whole senior class excited on the home bleachers when we found out we won." The students wore matching shirts which read "Senior World" and showed their enthusiasm throughout the rally.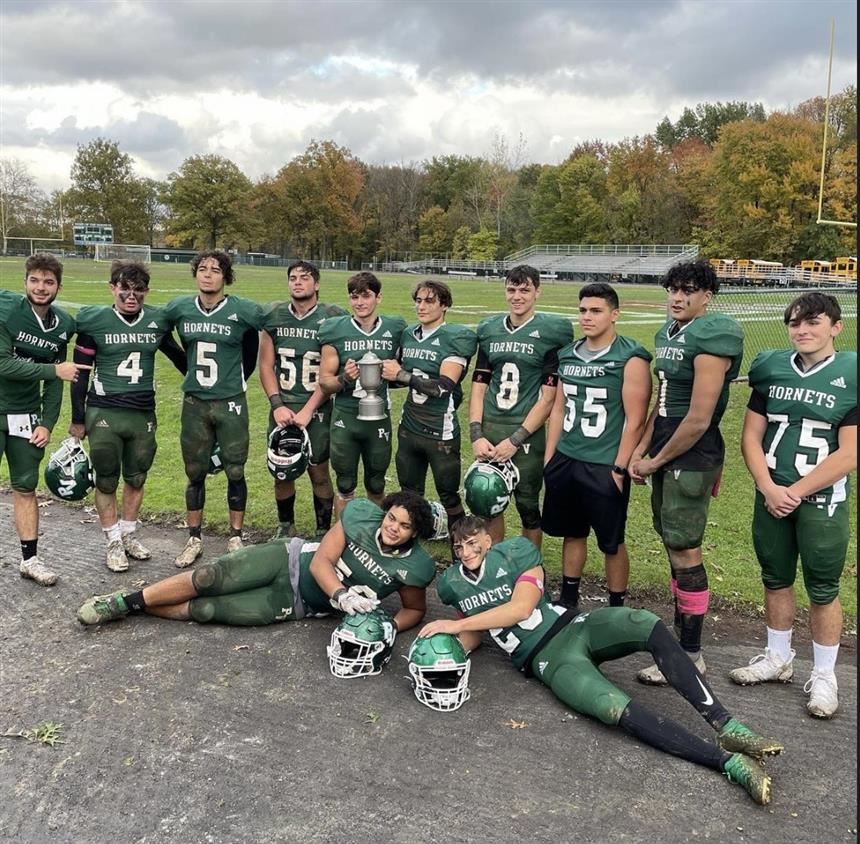 Winners of the Homecoming Court were announced during the Pep Rally. Sophomores Hamza Ibrahim and Alexandra Stefanelli were awarded the title of Mr. and Miss Green and White, juniors Leith Matari and Aubrey Santos were elected as Mr. and Miss Hornet, and seniors Hatem Haddouche and Emma Seber won Mr. and Miss Passaic Valley. "I couldn't be happier or even believe that I won. Hearing my name and hearing the crowd go wild really made me feel that throughout my four years at PV, I truly made an impact amongst my peers and teachers," commented Haddouche.
These two wins were just as important for Seber. "My initial reaction was that I didn't really know what was going on and I was shocked," said Seber. "The overwhelming support from my friends, teachers, and other classmates made it so much more exciting."
The Homecoming Football Game on Saturday, October 30th took on extra meaning this year as it was also the annual Valley vs. Valley game. The Hornets defeated Wayne Valley, 28-21.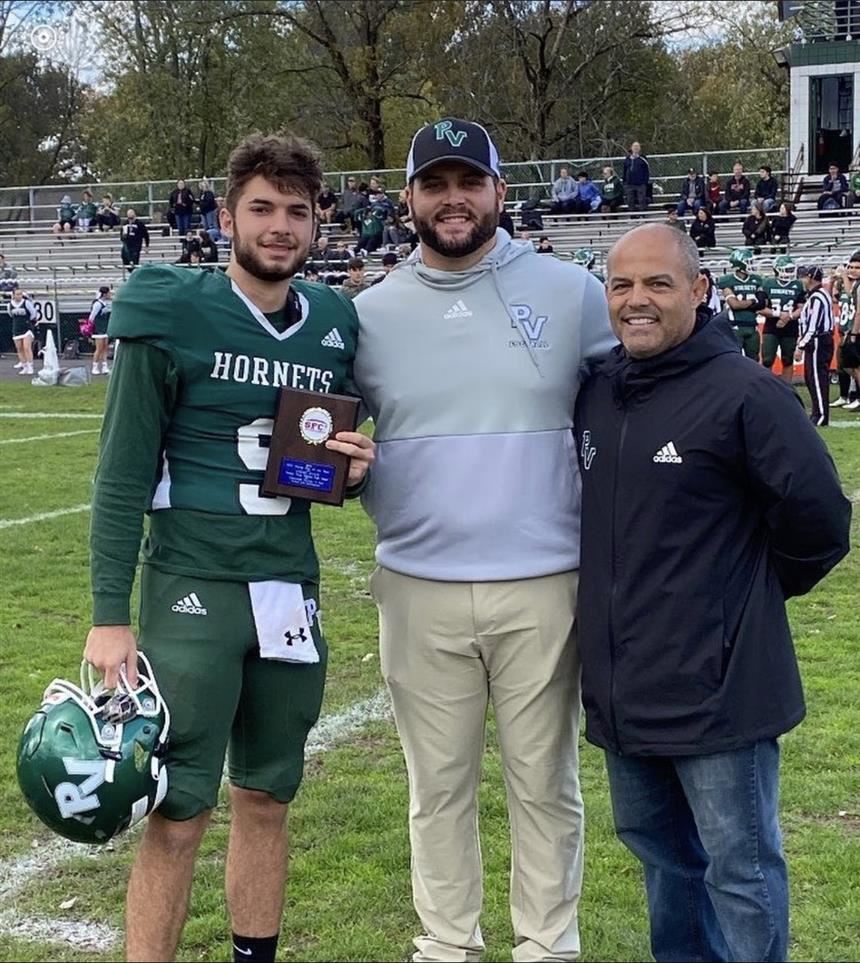 Senior and four year player, Andre Manzi, was selected as Passaic Valley's recipient for the Super Football Conference Steve DiGregorio Young Man of the Year Award. This honor is awarded to those who exemplify leadership, good academic standing, selflessness, community service and a positive attitude. "It was a great surprise from my coaches, and I can't thank them enough for viewing me as worthy of it," commented Manzi.
The Hornets were determined to defeat Wayne Valley and fought hard to do so. Manzi described ending his final football season at PV to be an amazing experience, sweetened by a win against Wayne Valley in front of the home crowd. "We played our game, which is tough Hornet football and never let off the gas. We simply wanted it more and we knew through all four quarters that this game was ours," said Manzi. "To get it done [winning Homecoming] for the last time on the Walton Field is an awesome way to go out."